We're thrilled to share the news of our strategic alliance with the globally recognized aviation safety and certification leader, WYVERN. This collaboration signifies our shared dedication to raising the bar in aerospace safety and compliance and marks a new chapter in our journey toward operational excellence.
Here at AeroEx, our mission has always been to help both commercial and non-commercial aerospace organizations achieve unparalleled safety, compliance, and efficiency levels. Our cutting-edge digital compliance and safety management platform, AMAS.aero, embodies this commitment. We've designed AMAS.aero to be a comprehensive and accessible solution for managing standards and regulations, assisting aviation entities in maintaining peak operational standards.
Our partnership with WYVERN will enhance our offerings by integrating their prestigious Wingman Safety Certification Program. As part of our alliance, we'll bring WYVERN's esteemed products and services to our clients in Europe, extending the reach of our services. In addition, we'll be supporting WYVERN's operations in European countries, including implementing services such as the Wingman Safety Certification Program and the Combined Wingman Safety Certification plus EASA Compliance Audit.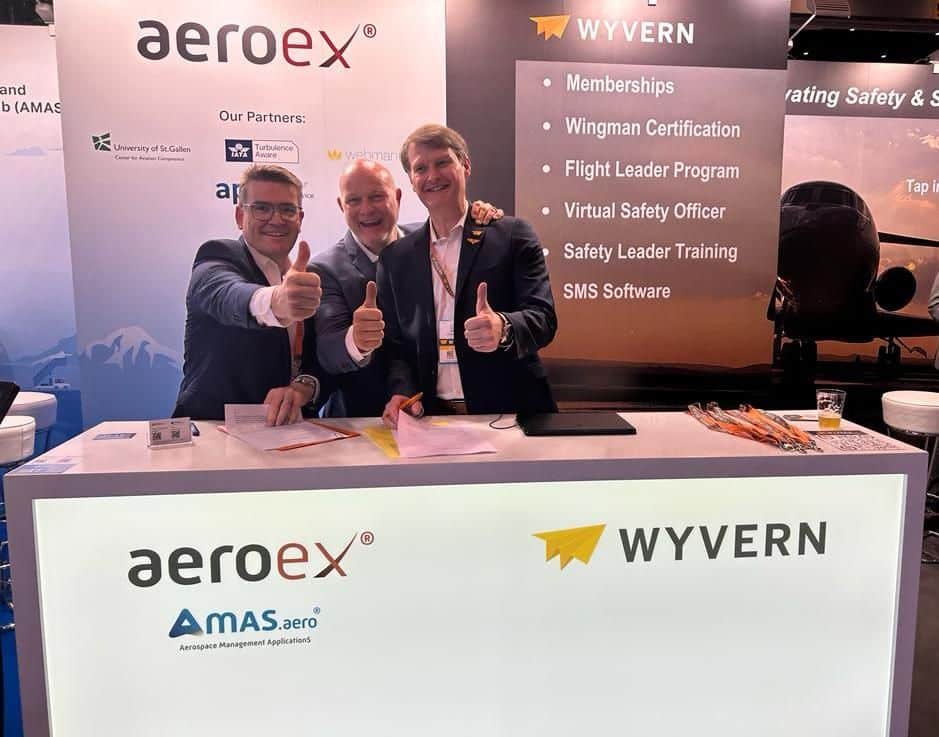 This partnership will greatly enrich our service portfolio, solidifying our place in the international market. Above all, our clients can expect an even broader range of services backed by the combined expertise of AeroEx and WYVERN.
Integrating AeroEx's and WYVERN's services ushers in a new era in aviation compliance and safety. As we look to the future, we are excited and deeply committed to creating a safer and more efficient environment in the aerospace sector.
"We couldn't be more excited about this partnership with WYVERN," said Helmut Gottschalk, Managing Director of AeroEx. "Their commitment to aviation safety dovetails perfectly with our own dedication to excellence. By joining forces, we can provide an even broader and more comprehensive service to our clients, merging our strengths to deliver unrivaled support in aviation safety and compliance."
This collaboration is just the beginning of an exciting journey. Together with WYVERN, we're eager to explore the possibilities this partnership brings and are optimistic about what lies ahead. Here's to a safer and more efficient future in aerospace!